Welcome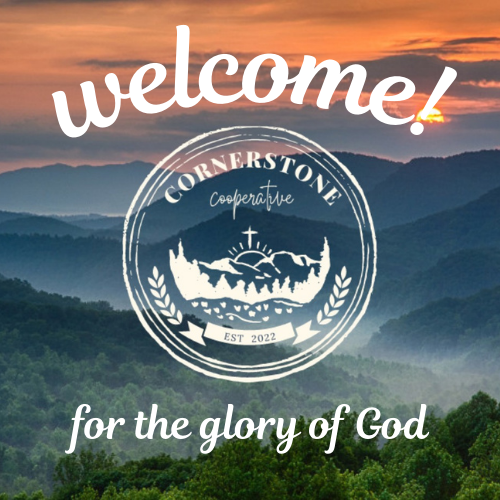 About Us
A Little About Cornerstone Cooperative...
Cornerstone is a family-oriented, Christian homeschool co-op committed to learning and growing together with like-minded believers who are dedicated to God's Word and supporting each other in both education and life. We seek to partner with families who are interested in gathering together to support one other's unique homeschool calling and to build community as we follow God's will. Our community strives to encourage life-long learning, build up Godly character, and create lasting friendships through the wisdom of the Lord.
But we are much more than a co-op: our community provides educational, social and extracurricular activities, field trips, support, and enrichment for our Member Families. We believe flexibility is important because every family is in a different season in life. As such, families have the option of joining our community to be a part of field trips and other social events, and in addition may also choose to become a part of our co-op class days. We believe that God has called us to be a community of families living out a vibrant faith that blesses our world through serving and loving one another and our community.
Cornerstone Co-op is a private, board-run, membership only homeschool group that offers academic and extracurricular classes for Kindergarten – High School grades (with nursery and preschool opportunities for the younger siblings of our enrolled students). While co-op is not a replacement for the parent as the teacher at home, we do offer classes that will enhance or supplement what is being studied at home. Each semester we offer an array of fun and educational classes utlizing parents' God-given passions, talents and abilities.
We are parent-led and do not have any drop-off options. As such, each and every parent has an important role and is vital to making each co-op day run smoothly. We require all parents commit to 3 hours of service as either a teacher, assistant, hall monitor, nursery worker, etc. We also have opportunities to give the morning devotional and for teens to serve on the worship team during chapel.
We currently meet on Mondays in Seymour and Tuesdays in Maryville. Families have the option to attend just one campus or both campuses, whichever meets their needs best. If you are interested in joining our homeschool community, please click the "Join Now" button below.
---
"Train up a child in the way he should go, even when he is old he will not depart from it". Proverbs 22:6
---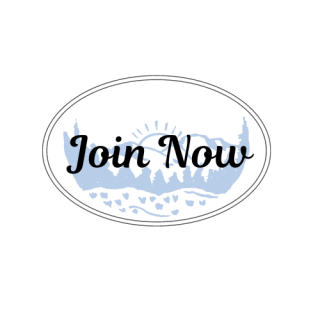 Application Process
>>STEPS FOR APPLYING TO CORNERSTONE<<
1. Read our Statement of Faith
1. Complete online application (either select a location/s for classes OR social membership only) HERE
2. Complete background check HERE
3. Have your pastor complete the reference form HERE and ask him to email to [email protected]
4. Await a phone call and in-person interview
**May 31st is the last day to apply for full membership**
Fall Dates to Remember
---
---
**Fall Semester Co-Op registration has closed**
**No new applications are being processed at this time as we begin a new semester**

---
---
*August 11th - Fall Semester Kick-Off (Required)
*August 21st & 22nd - First Day of Co-Op!

---
"Commit to the LORD whatever you do, and he will establish your plans." Proverbs 16:3
2023-2024 Academic Year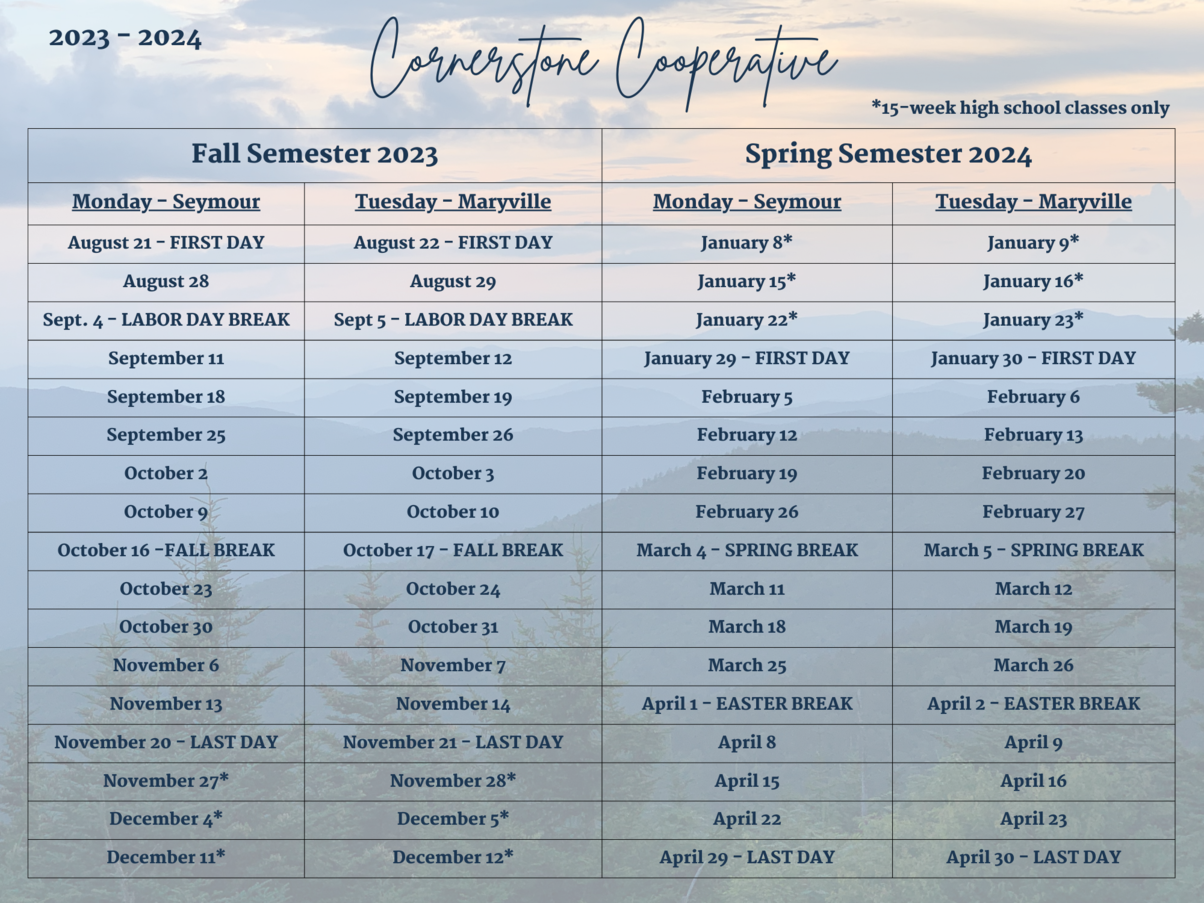 Membership Information
Membership Information:
Our membership runs from July 1st-June 30th of the following year. We offer a tiered membership structure with two options:
Social Membership: $30 (Click HERE for details)
Full Membership: $30 plus $55 per semester
This includes all aspects of social membership plus registration for our co-op classes. We offer two 12 week semesters (fall and spring) for all ages. Some high school classes may run a total of 15 weeks per semester.
Class offerings are viewable HERE .
Click HERE for membership details
Before applying for membership, please read our Statement of Faith
Join Our Facebook Group!
FAQ's
What is Cornerstone Cooperative?
We are a volunteer-run homeschooling group that offers a tiered membership structure to the greater East Tennessee homeschool community. We provide opportunities for homeschoolers in our area to participate in a way that best fits their family. The Social Membership provides opportunity for participation in activities and events, as well as online support and connection, and the Full Membership provides all of the above as well as a weekly in-person co-op day to participate in classes in Maryville, TN as well as Seymour, TN. Cornerstone is designed to enrich your homeschooling, not replace your homeschooling at home.
What is a "co-op"?
Co-op is short for cooperative, where people work together towards a common goal. Cornerstone parents pool our talents and time to provide an opportunity for our children to be with peers, whether it be on co-op meeting days or at other events scheduled throughout the year. We work together to emphasize fellowship, discipleship, and support within our community. On co-op meeting days, every family is expected to participate each week and fill a role within our cooperative, whether it's teaching or helping out in the nursery, security and hall monitoring, assisting with morning set-up, or clean-up at the end of the day. We strive to place a parent in an area based on their gifts and/or children's needs; however, there are no guarantees, and we ask each parent to have a servant's heart as we work together for the greater good of our community.
Where, what time, and which day does Cornerstone meet?
Cornerstone Cooperative meets in Maryville, TN as well as Seymour, TN. Classes are held weekly on Mondays (Seymour) and Tuesdays (Maryville). Our schedule is as follows:
Chapel - 9:30am to 9:55am
First Hour - 10am to 10:50am
Second Hour - 11:00am to 11:50am
Lunch - 11:50 to 12:30pm
Third Hour - 12:30pm to 1:20pm
Fourth Hour - 1:30pm to 2:20pm
Rooted Music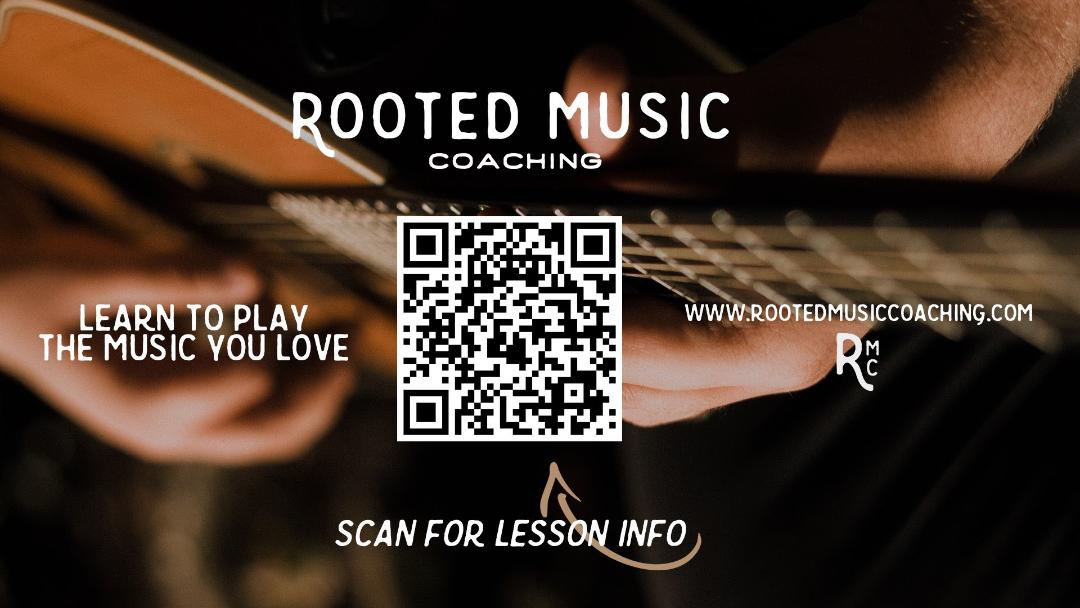 We are proud to partner with Rooted Music Coaching during our co-op class days!